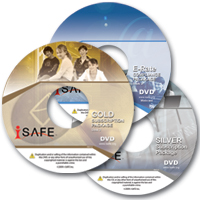 Licensing and accessing i-SAFE world-class lessons and teaching them in the classroom has never been easier. Once a school or district purchases a GOLD or E-Rate subscription, the teachers designated and verified through a STAT sheet can access the curriculum and begin teaching the lessons in their classrooms immediately. Access to the i-SAFE Admin Central is included with the purchase of either i-SAFE subscription. Through the secure portal, administrators can manage their subscriptions, monitor implementation and download implementation/certification reports ON DEMAND.
Subscription Pricing
The annual pricing structure for each of i-SAFE's subscription and license packages, is per school(s) and/or district. Note that in the event there are five or more schools within a given district, the annual cost will fall within a district-level pricing structure.
E-Rate Subscription: Licenses and allows educators online access to ONLY the E-Rate related curriculum. One year subscription is $250 for a school and $1,250 for a district (5-49 Schools*).
GOLD Subscription: Licenses and allows educators online access to all i-SAFE curriculum, including E-Rate related curriculum.The yearly subscription cost is $520 for a school and $2,600 for a district (5-49 Schools*).
Gold
E-Rate
Per School
$520
$250
District (5-49 Schools*)
$2,600
$1,250
*District (50+ schools): Click to contact i-SAFE for special pricing
Order Now
All subscriptions can be purchased by submitting a Purchase Order (PO). If your school/district is paying by PO please be sure to attach a copy of the i-SAFE quotation form with your PO by following these 3 easy steps:
It is very important to complete the contact information with the name and e-mail address of the person you designate as your i-SAFE staff representative, as well as filling in the school and quantity fields.
Send the i-SAFE quotation form along with your school/district PO to subscription@isafe.org OR fax it to 760-603-8382.
Every Purchase Order must be signed and include the product name: "GOLD" or "E-Rate."
Return to the main i-SAFE Subscription Page