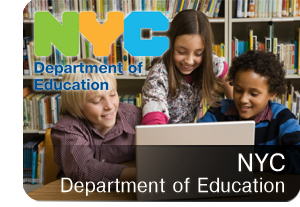 NYCDOE Making a Difference
Educators from schools in the New York City Department of Education (NYCDOE) system can access i-SAFE's GOLD Internet safety curriculum and programming, enabling them to educate K-12 students on a variety of e-Safety topics including:
Appropriate Online Behavior
Cyber Bullying
Social Networking
Registering with i-SAFE and creating an account is quick and easy, and completed online in just a couple of minutes.
Adding Schools and Educators
Congratulations, . Your school has been added to the i-SAFE and NYCDOE relationship. You will receive an e-mail communicating how to add educators to your subscription.
To add your school to the i-SAFE and NYCDOE relationship simply click this link to get started.
Webinar Dates
Thursday - October 9, 2014
Tuesday - October 14, 2014
Thursday - October 23, 2014
Wednesday - October 29, 2014
All webinars begin at 12:00 PM ET. If you are interested in attending a webinar please send an e-mail to nycdoe@isafe.org. In your e-mail correspondence please designate the date you would like to attend.
Accessing the Curriculum
Individual lesson plans are PDF files posted to a password-protected page that is accessed through i-SAFE's main portal (isafe.org). The curriculum is organized by grade and then by topic module (e.g., GR6 / Cyber Bullying).
Principal Guide to Enrolling your school and adding educators to the i-SAFE system can be found here.
A detailed explanation of the download curriculum process can be found here.
A sample of the i-SAFE curriculum can be shared here.
Strategies on how to implement i-SAFE in the classroom can be downloaded here.
The scope of the i-SAFE curriculum can be reviewed here.
For further assistance or questions about the i-SAFE and NYCDOE relationship, please contact: nycdoe@isafe.org