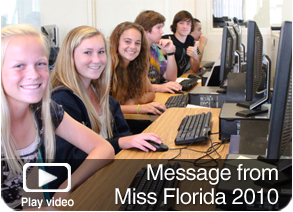 i-SAFE's education component provides students with dynamic, interactive, up-to-date e-Safety curriculum in the classroom, online and in the community. These prevention-oriented lessons employ peer-to-peer communication and cooperative learning activities to help students retain this valuable information. The Outreach component facilitates the extension of students' newly acquired e-Safety knowledge beyond the classrooms and introduces the entire community about the need to be safe online. Youth empowerment is the link. Students are encouraged to become student i-MENTORs who communicate the e-Safety message via peer-to-peer contact and exciting community-wide activities, events and rallies.

Certification is not required to teach the lessons. However, an i-SAFE Professional Development Program (PDP) ' face-to-face or online through the i-LEARN video modules ' is recommended to update educators on the specific topics covered in the curriculum. Attending a PDP or completing i-LEARN online is required for an educator to train others as an i-SAFE Certified Trainer.

Subscriptions
i-SAFE curriculum is posted online to conveniently serve a school, district, education service network, and state or government agency ' including foreign governments. They subscribe to license and access one of i-SAFE's curriculum packages: 'E-Rate,' 'Gold' or 'Silver' and complete a Subscription Teachers Action Table (STAT). The STAT sheet designates which educators will access and teach the lessons. Encourage your school and/or district administrators to subscribe. When they purchase either the Gold, Silver, or E-Rate membership you and your students will not be left behind. Please visit our Subscriptions page for more information.

E-Rate Package curriculum has been developed to meet the needs of the Protecting Children in the 21st Century Act legislation. It focuses on these topics:
Appropriate Online Behavior ' Safety and responsibility in Cybersapce
Social Networking ' Safe and responsible interaction with other individuals on social networking Web sites and in chat rooms
Cyber Bullying ' Increase students' awareness about cyber bullying and response
Click to view E-Rate curriculum sample.
Silver Package curriculum is age-appropriate lesson plans and reproducible activities on:
Cyber Community Citizenship ' Relates real world and online behavior/consequences
Personal Safety ' Responsible online communication and safe interaction
Cyber Security ' Malicious software, spam, identity theft awareness and response
Intellectual Property ' Copyright protections, plagiarism, file-sharing in Cyberspace
Predator Identification ' Understanding the grooming process, and appropriate response to strangers online
Digital Literacy ' Comprehending the purpose of media and how to utilize media to its best purpose
Click to view i-SAFE's Curriculum Scope of Lessons Available document.
Click to view i-SAFE's Subscription Webcast Videos.
Gold Package curriculum combines all i-SAFE materials offered in both the E-Rate and Silver curriculum packages. Gold is the comprehensive approach to teaching e-Safety in today's Web 2.0 world ' safety, responsibility, security, and more online.
Click here to download i-SAFE and Educators Work Together To Build A Safer USA document.
Assembly Experiences
Conduct an i-SAFE Assembly Experience. The Assembly Experience is a useful complement to the curriculum. Invite several classrooms to participate. Click here to preview all of i-SAFE Assembly Experiences that are currently available.
i-LEARN Online
Once again, i-SAFE takes e-Safety education above and beyond everyone else in the field. i-LEARN Online is what it says it is - online learning. This program is for you if you do not have time to attend the original day-long Premier Professional Development Program (PDP) in person. i-LEARN Online is for you if there is no face-to-face training in your area. Simply put, this program brings the education to you anytime you are on a computer with Internet access.
i-LEARN Online is a set of video modules that cover the topics everyone needs to know to teach safe and responsible use of the Internet. i-SAFE professional development training is not required to teach e-Safety in the classroom. However, the i-LEARN Online or the in-person training (PDP) will give educators what they need to stay ahead of their students.
So what are you waiting for? Go to i-LEARN Online now, then send the link to your friends. There is no excuse for you, your family, your friends, or your community to remain vulnerable to the dangers found on the Internet.